<!Recipie----->

Roasted Eggplant and Bell Pepper Salad

Roasted eggplant and bell pepper with garlic and lemon salad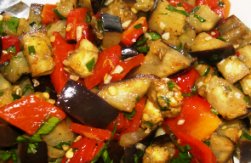 <!Ingredients----->

Ingredients:

1 Large Bell Pepper, sedded, sliced
1 Large Eggplant
2 Tsp Olive Oil
2 Clove Garlic, minced
Juce of 1 Lemon
1/4 Tsp Cumin
Salt and Pepper to taste
1 Tblsp Flat Leaf Parsley, finely chopped

<!Method----->

Method:

Preheat oven to 200c.
Fire roast the bell pepper for 1-2 min then set aside.
Place the eggplant on a baking tray and toss with olive oil and garlic.
Roast for 15-20 minutes until cooked through and tender.
While the eggplant is roasting peel and seed the bell pepper and cut into 3cm cubes.
When the eggplant is done, cut into 3cm cubes.
In a salad bowl toss well the eggplant, roasted pepper, lemon juice, cumin, salt and pepper.
Let it cool until room temperature then garnish with parsley and serve.