<!Recipie----->

Turkish Parsley Red Onion and Tomato Salad

Sliced tomato topped with red onion rings and chopped parsley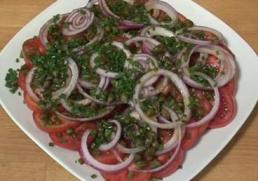 <!Ingredients----->

Ingredients:

4 Large Tomatoes, sliced (top to bottom)
3 Large Red Onions, sliced into rings
1 Bunch of Fresh Flat Leaf Parsley, roughly chopped
2 Tblsp Olive Oil
Juice of 1 Lemon
Salte to taste

<!Method----->

Method:

On a serving plate arrange the tomato slices.
Arrange the onion rings over.
Scatter on top the chopped parsley.
Pour evenly over the olive oil then squeeze all over the lemon juice and sprinkle the salt then serve.