<!Recipie----->

Turkish Yogurt and Carrot Salad

Yogurt with soft carrot, garlic, lemon and parsley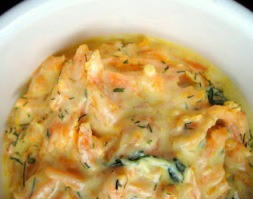 <!Ingredients----->

Ingredients:

2 cups greek style yogurt
3 tblsp olive oil
4 medium carrots, grated
2 cloves garlic, crushed
3 tblp lemon juice
salt and pepper to taste
1/2 cup flat leaf parsley, finely chopped

<!Method----->

Method:

Line a large colander with muslin cloth then place over a large bowl. Strain 20 minutes.
Heat oil in a frying pan over medium heat and cook carrots stirring for about 5-10 minutes or until almost soft then remove from heat and let cool.
Combine strained yogurt and carrots in a serving bowl, add garlic, 2 tablespoons lemon juice, salt and pepper then mix.
Cover salad and chill for 1 hour then mix through parsley and serve.