<!Recipie----->

Tuna Tajine

Tuna in a tomato, garlic, lemon, turmeric and ginger sauce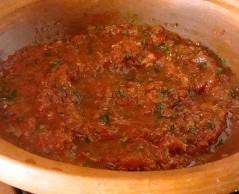 <!Recipie Ing & Meth--------->

Ingredients:

300g of tuna
1 onion, chopped
2 cloves garlic, crushed
4 large tomatoes, peeled, deseed and chopped
1 bunch fresh coriander, chopped
3 tablesp olive oil
juice of 1 lemon
1/2 teasp cummin
1/2 teasp turmeric
1/2 teasp grated ginger
salt and pepper to taste



Method:

Heat oil in tagine then add in onion, garlic, tomatoes salt and pepper, cover and cook for 10 minutes.
Add tuna, lemon juice, cummin, turmeric, ginger and coriander. Cover and cook for 20 minutes.
Serve hot. This dish goes well with couscous or rice.