<!Recipie----->

Kidney Beans and Tomato Soup

Kidney beans with tomato, garlic, cumin and chilli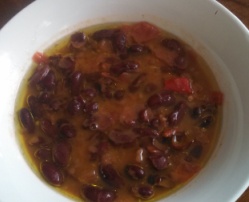 <!Ingredients----->

Ingredients:

400g Can Red Kidney Beans, drained
1 Large Tomato, finely diced
1 Clove Garlic, crushed
1/2 Tsp Ground Cumin
1 Small Hot Red Chilli, finely chopped
Salt and Pepper to taste
1 Tblsp Olive Oil
Olive Oil for drizzling

<!Method----->

Method:

In large frying pan add the kidney beans, 1/2 cup water, tomato, chilli, 1 tblsp of olive oil, cumin, salt and pepper.
Simmer stirring for 10 on a medium heat until the tomato has softened.
Pour into a serving bowl then drizzling with the olive oil then serve.