<!Recipie----->

Moroccan Pea Soup

Split pea soup with cumin, coriander garnished with yoghurt and paprika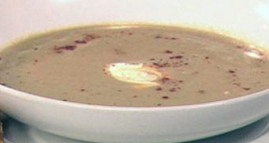 <!Ingredients----->

Ingredients:

1 Tblsp Olive Oil
1 Onion, finely chopped
1 Clove Garlic, finely chopped
2cm Piece Fresh Ginger, peeled and grated
2 Tsp Ground Cumin
2 Tsp Ground Coriander
½ Tsp Cayenne Pepper
1 Cup Yellow Split Peas
1.5 Litres Water or Stock
Salt and Pepper to taste
Natural Yoghurt and Paprika as garnish


<!Method----->

Method:

In a large pot, heat oil over a medium heat. Add onion, garlic, ginger and spices and cook for 5 minutes until softened.
Add split peas and stock, cook for 25 minutes or until peas are soft. Place two thirds of the soup into a blender and blend until smooth, return to pan and combine with remaining pea mixture. Season with salt and pepper.
Garnish with yoghurt, sprinkle with paprika and serve with pita bread.