<!Recipie----->

Syraian Tomato, Carrot and Lentil Soup

Tomato soup with carrot, lentils onion, garlic and spice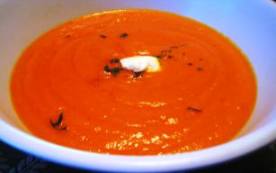 <!Ingredients----->

Ingredients:

2 Tblsp Extra Virgin Olive Oil
1 Meduim Onion, finley diced
2 Carrots, diced
4 Cloves Garlic, monced
2 Tsp Ground Cumin
2 Tsp Ground Coriander
1 Tsp Ground Ginger
2 Tblsp Tomato Paste
1 Cup Red Lentils
2 x 400g Diced Tomatoes Cans
6 Cups Vegetable or Chicken Stock
Salt and Pepper to taste
Greek Yogurt to serve
1 Tblsp Flat Leaf Parsley, finely chopped

<!Method----->

Method:

Heat the oil in a large saucepan over a medium heat then add the onion and carrots and cook for 5 minutes, stirring occasionally.
Add the garlic, cumin, coriander and ginger and cook stirring for another minute.
Add the tomato paste, lentils, tomatoes, stock, salt and pepper and then bring to the boil.
Cover the saucepan, reduce heat to medium then simmer for 30 minutes.
Allow 10 minutes to cool then place the mixture to a blender and process until smooth.
Return the soup to the saucepan then on a medium heat brings back to a boil, stirring occasionally.
Place in serving bowls, serve hot topped with a dollop of yogurt and garnished with parsley.