<!Recipie----->

Tunisian Celery and Chickpea Soup

Celery with garlic, onions, carrots and Lemon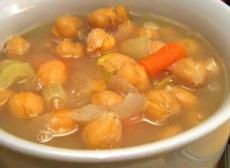 <!Ingredients----->

Ingredients:

6 Tbsp Olive Oil
6 Garlic Cloves, finely chopped
350g Chickpeas, pre-soaked overnight
2.2L Fresh Chicken Stock
2 Onions, finely chopped
3 Carrots, finely chopped
6 Sticks of Celery, finely chopped
Salt and Pepper
The Juice of 1 Lemon
3 Tbsp Freshly chopped Coriander

<!Method----->

Method:

Heat half of the olive oil in a large saucepan, add the garlic and sautéed gently for 2 minutes.
Add the chickpeas and stock, bring to the boil then reduce the heat and simmer for 1 hour or until the chickpeas are tender.
Meanwhile, heat the remaining oil in a frying pan add the onion, carrots and celery, mix well to coat.
Reduce the heat, cover and cook for 20 minutes, stirring from time to time then set aside.
Once the chickpeas are tender, add the onion mixture together with salt, pepper, the lemon juice and coriander.
Mix well and cook for 5 minutes. Serve hot.