<!Recipie----->

Tunisian Tomato Chickpea Soup

Spicy tomato broth with chickpeas and cous cous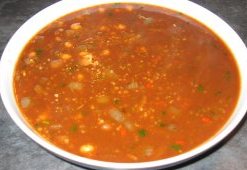 <!Ingredients----->

Ingredients:

2x 400g Tin Chickpeas
2 Tbsp Vegetable Oil
2 Medium Onions, chopped
2 Cloves Garlic, crushed
1 Tsp Coriander Seeds, crushed
1 Tsp Cumin Seeds, crushed
1 Tsp All Spice
1 Tsp Hot Chilli Powder
400g Tomato Puree
1 Red Chilli, deseeded and finely chopped
1.5L Boiling Water
Sugar, Salt & Pepper to taste
1/3 Cup Cous Cous
1/2 Cup Coriander Leaves, chopped
Lemon Juice to taste

<!Method----->

Method:

Add the onions and fry on a high heat until golden.
Stir in the garlic, allspice, coriander seeds, cumin and chilli powder. Cook through for 2 minutes.
Lower heat and add the fresh chilli, sugar and tomato puree. Stir well and cook through for 2-3 minutes.
Add the water and chickpeas then bring to the boil then lower heat to a simmer for 10 minutes.
Adjust the seasoning to taste, remove from heat and add the cous cous and coriander leaves, then serve.