<!Recipie----->

Algerian Makroud Cookie

Sugar coated almonds meal cookies with orange flower water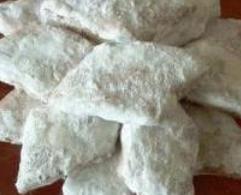 <!Ingredients----->

Ingredients:

500g Almonds Meal
1 1/2 Cup Caster Sugar
2 Eggs, beaten lightly
2 Cups Water
1 Tblsp Orange Flower Water
3 cups Icing Sugar

<!Method----->

Method:

Preheat oven to 180c.
In a large bowl add the Almonds Meal and 1 Cup caster sugar mix well then stir in eggs to from a smooth dough.
Remove dough from bowl then knead on a floured work surface then cut the dough into 4 equal portions.
Roll each portion out into a roll about 2cm in diameter then press down with your palm to flatten then cut out 5cm cookies.
Place cookies on baking paper on a try and bake for about 12 to 15 minutes, or until lightly golden on top then set aside to cool.
While the cookies baking make the sugar syrup. In a saucepan over high heat bring the water and 1/2 cup caster sugar to a boil while stirring until all the sugar is dissolved then stir in orange flower water. Set aside the sugar syrup to cool to room temperature.
Dip each cookie in the sugar syrup to wet then dip and coat in the Icing Sugar, place on a rack to dry and repeat with the rest of the cookies.