<!Recipie----->

Ghraybeh Biscuits

Semolina with orange flower water and almond biscuits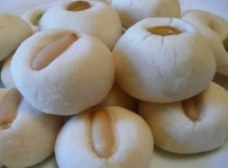 <!Recipie Ing & Meth--------->

Ingredients:

1/2 cup self rasing flour
1/2 cup plain flour
1 cup semolina flour
1 cup unsalted butter
2/3 cup caster sugar
3/4 teasp orange flower water
30 blanched almonds



Method:

Preheat oven to 140C.
Sift together the self rasing flour, plain flour, and semolina then set aside.
Beat the butter for at least 10 minutes until it's fluffy.
Then beat for 2 more minutes while sprinkling in the blossom water and mixing the sugar forming a dough.
Refrigerate the dough in a covered bowl for 10 minutes.
On a lightly floured surface, roll the dough out to a 2cm thickness, then cut into small balls and place them 3 cm apart on un-greased baking papper on a try.
Then place an almond in the center of each biscuit.
Bake between 35 to 40 minutes in the preheated oven, then remove from oven when lightly golden.
Let biscuits cool for at least one hour before serving.