<!Recipie----->

Saudi Date and Walnuts Balls

Sweel balls made with dates, walnuts cardamom and butter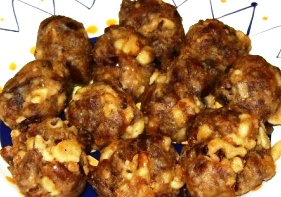 <!Ingredients----->

Ingredients:

1/41/3 Cup Allpurpose Flour
1 1/2 Cups Soft Dates, pitted and chopped
4 Tblsp Unsalted Butter
1/2 Tsp Cardamom, ground
1/2 Cup Walnuts, chopped
1 1/2 Tsps Brown Sugar

<!Method----->

Method:

On medium heat in a medium frying pan add butter.
Add walnuts and mix until lightly toasted.
Add cardamom, brown sugar, dates and flour.
With a wooden spoon mix well for 5-10 min until nuts the and dates are covered.
Remove from heat and allow for mixture to cool to warm.
Shape mixture into walnut size ball with your hands.