<!Recipie----->

Bell Peppers with Onion and Tomato

Spicy sautéed bell peppers with onion, tomato, garlic and lemon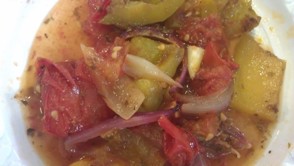 <!Ingredients----->

Ingredients:

3 Tblsp Olive Oil
1 white onion, sliced
1 red onion, sliced
2 Green Bell Pepper, cut into cunks
2 Red Bell Pepper, cut into cunks
3 Tomatos, diced
2 Garlic Cloves, minced
1 Tsp Cayenne Pepper Powder
1 Tsp Coriander Seed
1 Tsp Ground Cumin
1 Tsp Ground Chilli
1 Tsp Paprika Powder
Salt and Pepper to taste
1 Tblsp Lemon Juice

<!Method----->

Method:

In a large frying pan heat the oil then sauté white onion until golden.
Add the garlic, bell pepper, tomatoes and spice then sauté for 8-10 until vegetables are softened.
Remove from heat then mix through red onions and add lemon Juice then serve.