<!Recipie----->

Broad Bean and Carrot Stew

Broad beans with carrots, onion and garlic in a spicy tomato stew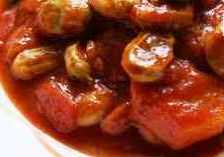 <!Ingredients----->

Ingredients:

2 Cups Fresh Broad Beans, removed from shell
1 Meduim Onion, chopped
2 Garlic Cloves, crushed
1 400g Can diced Tomato
2 Large Carrots, chopped
1 Tsp Ground Chilli
1 Tsp Ground Coriander
1 Tsp Ground Cumin
Salt and Pepper to taste
2 Cups Water

<!Method----->

Method:

In large frying pan heat the oil then sauté the garlic and onions until lightly golden.
Add the diced tomato, carrots, spice and water.
Reduce heat and simmer for 15-20 mins, or until beans are wrinkly but still green.
Once cooked serve immediately.